Georgia
GVDS 2022
Apr 13, 2022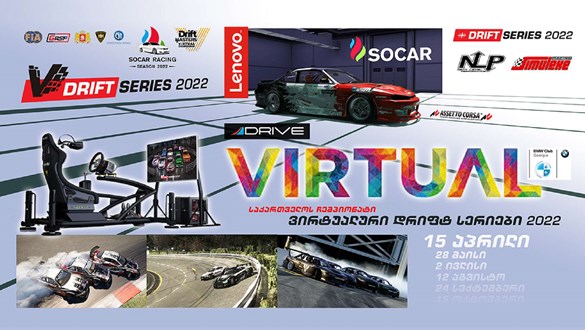 🔴
GDS presents the Georgian Virtual Drift Championship 🏆 GVDS 2022 (Georgian Virtual Drift Series), which will be organized by an experienced team led by Simulexe Racing. Georgian racing sections were made especially for all stages of GVDS, which are taken from the events held by GDS! The first competition of the 6-stage championship will be held on April 15.
✅
Registration is already open and will continue until April 13th. Registration fee is given in the registration form:
https://forms.gle/PWjAweY11dw4C2Vs9
⭐🎉 Introducing the main prize of the GVDS 2022 champion - ზე Going to the PRO2 class with a real car during the 2023 GDS season !! The rest of the prizes will be offered soon! 🎁💨
II place - during the GDS'23 season, PRO class racer will drive on all stages of the trajectory 🤟💨
🥉 III place - GDS'23 VIP pass, with which you will be able to enter all stages with +1 people for free and interact with the racers in the closed park 🆔🆔⚜
Schedule of the first stage
⏩ April 14:
20:00 Qualification briefing
21:00 Qualification
⏩ April 15:
20:00 Pre-race briefing
21:00 Couples walk, main grid
📈 Briefings will be held in Simulexe Racing Discord Group. Discord will also communicate with the participants during the competition. To join the Discord group, go to the link:
https://discord.gg/Wz73yJxwQT
მონაწილე To participate in the championship you will need:
- Assetto Corsa simulator, which can be purchased on the Steam platform.
- Tujigiri Pro Phase 1 vehicles will be used.
When registering, you must select 1 preferred car to drive the entire championship. The choice of tires will not be blocked and you can use both medium and soft tires.
Automotive Download Link:
https://drive.google.com/u/0/uc?id=1a_diq4r6yV9_QEerTNxjbX7zsvB3fq0J&export=download
🌐 The first stage will be held on a similar virtual version of the GDS'21 final stage (Autodrome Paddock) track. Track download link:
https://drive.google.com/file/d/1UK0Jn-gc1qb93WDwr7X-d4xJSHkK7XA-/view?usp=sharing

🚦
24/7 Exercise Server will be launched during the preparation period:
https://acstuff.ru/s/q:race/online/join?ip=95.211.222.135&httpPort=18368